click to enlarge
This double-truck centerfold was a collaboration between myself and
Bruce Carleton
,
Screw
's art director. Carelton was also founding "art director" of
Punk Magazine
—a local, no-money periodical at the time, but one that would have a profound impact on the culture to this day. Punk—as music, art and movement—seemed to grow out of this publication. John Holmstrom and Legs McNeil founded the mag, but Carleton gave shape to the punk ethic and style, at least in print. Grafitti-inspired lettering and graphics, fumetti and Lower East Side imagery in its post-nuclear glory.
In the late '70s, Carleton himself lived in a bombed-out tenement run by The Purple Man, a visionary Lower East Side hippie. His rent was $50 a month. A Midwestern Clark Kent of a gent (he even wore the same glasses), this Kansas-born artist was modest and mild-mannered. Not a rat-race runner reaching high ground in New York's art world, which his talent warranted. And so, one day, without warning, Bruce Carleton vanished. Months passed before we got word at Screw that Carleton had relocated to the jungles of Borneo. Or Jakarta or Burma.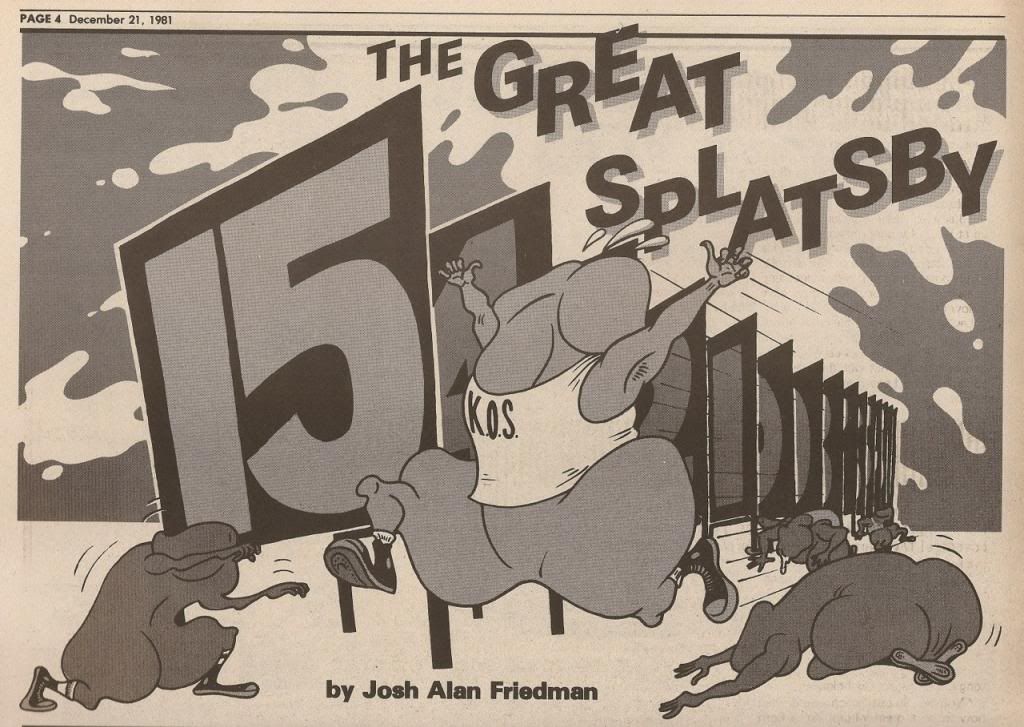 A year later, he returned one afternoon and enchanted us with a photo slide show depicting ancient Buddhist temples and rainforests. And in the middle of it all was Carleton himself, reclining on a hammock with a daiquiri or some cocktail, attended to by Polynesian-type island maidens. The next day, he went back to Borneo, where he stayed for over a decade. He's now apparently back in Kansas. Carelton's layouts for my own pieces in
Screw
—particularly a two-part story on Plato's Retreat's Larry Levinson's record-setting exploits, later to appear in
Tales of Times Square
—were exquisite.
© 1981, 2014 by Bruce Carleton and Josh Alan Friedman