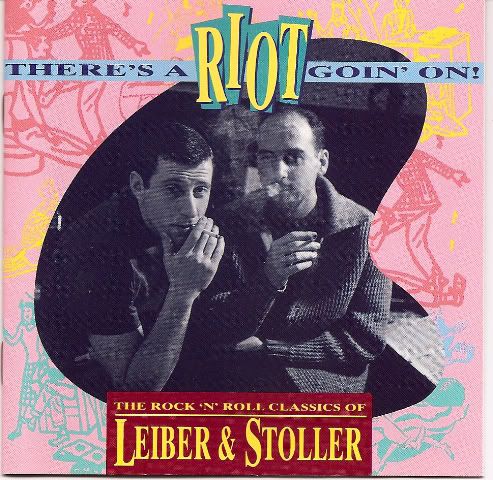 Atlantic Records co-founder Jerry Wexler and songwriter Jerry Leiber
both
related this anecdote:
Leiber never went out to see live music—not even his own groups like the Coasters, Drifters or Elvis. But in June 1971, Wexler coaxed him to attend closing night of the Fillmore East. The moment The Allman Brothers, an Atlantic/Capricorn group, broke big. Leiber was claustrophobic and couldn't stand crowds. Furthermore, he told Wexler, "These guys are
your
band, they're bad-ass musicians—but I don't know who they are, and I don't give a fiddler's fuck about them or the Fillmore."
Wex said, "There are people around the world who idolize you. You don't go out to music, you don't fuckin' know. I told Duane Allman I'd bring you up to the dressing room and he said, 'You're full of shit. Jerry Leiber's been dead for years.' I want to prove that my word's good."
So they go to the Fillmore, where flowers are arranged on reserved seats for the two Jerrys.
"I sat in the audience," said Leiber, "and it started to fucking rain on the inside of the theater. I panicked and told Wex to get me the fuck out of here, but it was too crowded to leave. He said somebody set off the sprinkler system but there's no fire. I said I don't give a fuck,
get me out of this goddamn auditorium
. We went to the exit which was barred shut, bolted from the outside because kids were trying to break in."
Wex turns to Leiber, who's soaked, and says, "Hey, man, do this for me. Just this once. Come visit Duane."
"I'm about to have a heart attack," remembered Leiber, "there could be a fire, the doors are barred. And he's worried what Duane Allman thinks, to show I'm alive to impress him. Wexler collects people like big-game hunters collect heads."
So Wexler maneuvers them into the dressing room. Duane Allman is shirtless, pale and skinny, whacked out of his skull while stringing his Les Paul. (He would be killed in a motorcycle wreck a few months after this night.)
Wexler says, "Duane, didn't I promise you? Well, here he is. Jerry Leiber."
Allman stares up hazily at this wet, anxiety-ridden figure.
"You're fulla shit. Jerry Leiber's been dead for four years."
"I'm not kidding you, this is
the man
," says Wexler. "Tell him who you are, Jer."
"I wanted to say I'm Max Schmeling, leave, and destroy the moment for Wexler forever," Leiber remembered. "I could see it meant so much to Wex, so I complied. 'He's telling the truth. I'm Jerry Leiber and I didn't die four years ago.' But whatever I said was gonna be pointless."
The most potent songwriter and producer of the rock 'n' roll era was such an iconic, remote figure, that 24-year-old Allman thought it was some con. As if Jerry was a myth, couldn't possibly exist. Leiber bolted out of there, more resolute than ever to avoid live concerts.
Well, forty years later, as of last week, Jerry Leiber is now finally not alive. My father brought him home and introduced me in 1965, when I was nine years old and clueless. Some guy who'd written Elvis' songs before my time, which meant nothing to me. But he also wrote something called "Kansas City," that just appeared on
Beatles '65
. That fact got my attention in a
big
way. It was straight-out rock 'n' roll, different than regular Beatle songs, the odd music they'd apparently grown up on.
The sheer magnitude of what Leiber & Stoller accomplished is mind-boggling—they fathered rock 'n' roll, they put the dominant AABA song structure in popular music, and were the first to be called "record producer." They began as R&B songwriters, and I wonder whether they ever listed their mission statement on tax returns: Making Black Folks Laugh.
I never let cosmic distractions, as listed above, get in the way of friendships. Especially when preparing cornbread and ribs in the kitchen with Jerry Leiber, like an old Jewish grandma. As with any great figure, you're also dealing with a mere human being. He had a preference for writer friends over music people. He grew up in a Baltimore slum speaking Yiddish, but learned meter from Rudyard Kipling and Edgar Allan Poe (also from Baltimore). He devoured Proust as a child. Privately, he kept revising the lyrics from songs he wrote long ago, always reaching for what he considered to be the perfection of Irving Berlin.
The "playlets"—those 50 two-and-a-half minute radio plays that Leiber & Stoller did with their alter-ego vaudevillian do-wop group, The Coasters—were the most lyric-driven canon of songs ever written. Leiber & Stoller's range was magnificent, from early ditch blues to late Sinatra. "The Girls I Never Kissed" would have been a smash, had Sinatra's voice only behaved during two attempted recording sessions.
Jerry Leiber bequeathed me the only unreleased song from the Leiber & Stoller catalog of the 1950s, "Strike A Match." The song takes place in a dimly lit Negro bar where, after dancing and before the first kiss, the guy tentatively asks the girl to: Strike a match/Let me see/Yo' face/Yo' face." They'd written it for Howlin' Wolf or Muddy. Then it got lost in a closet for 45 years. Leiber thought the three greatest male blues voices were Memphis Slim, Muddy and Howlin' Wolf.
"I can't sing like that," I said. And didn't want to affect a Black voice. Different physiology.
"Doesn't matter," he said. "It's
attitude
."
"Strike A Match" came out, if such could be said, in 2001. A few years later Leiber agreed to produce a solo album of me doing his purest blues songs. He hadn't really been in the studio in a few decades. Not since the '70s when he and Mike Stoller last produced Peggy Lee, Elkie Brooks, Procol Harum, a T-Bone Walker tribute album, and Stealers Wheel, including the single "Stuck in the Middle with You." After that, they even refused the Rolling Stones.
So why, you might ask, would Leiber take interest in a bum such as I? Well, many entities that Leiber & Stoller bestowed their magic upon were cherry-picked from out of nowhere. That's how those groups became famous.
"I wrote for people I loved," he once told me. "The rest got my leftovers." So maybe I was getting his leftovers. And I knew I was born too late. Come back 30 years ago, and he'd put you on the charts. He could do it with
anybody
.
He also produced the construction of his early 20th century Greene & Greene-style house like a record, in Venice Beach, California. He put me up there for a manically enchanting week. We rehearsed some and even attempted to write new songs. Off the clock, bullshitting, Jerry's wit was sharp as ever. He still maintained a childlike playfulness in his genius with language and could pull lines out of the sky like lightening.
But when play turned to work, it turned mundane. He immediately excised all lines about gynecology from a song of mine. And the song was about a gynecologist.
"But Jer, that's the best stuff."
"Whaddya crazy, you can't say that shit." Well, I figured, maybe he knows what he's talking about.
The first session was booked at Nightbird, his son Jed's recording studio under the Sunset Marquis Hotel, near the Leiber & Stoller offices. On the way to the studio, Jerry got a call from the studio manager who wanted his credit card number. Jerry had originally financed the whole joint, and here his son was going to charge him by the hour. He went ballistic over the phone—and thus our production was, predictably, cancelled. There was no way Jerry Leiber was going back to the studio, any more than Muhammad Ali was going back to the ring.
I spent a year under unpaid contract with him, to be billed equally as co-writer of his autobiography. It was to be called
Kiss My Big Black Ass
. The cover was to be a mule's ass, its head turned around with the face, naturally, being that of Jerry. Leiber's handlers were, of course, appalled, and pressed on for a sanitized Leiber & Stoller autobiography to be written with David Ritz, the official biographer of music pioneers. Ritz had about eight other books going that year. Stoller wanted a mannered, politically correct book that, in spirit, might be called,
And Then We Wrote...
But Jerry always reached for the jugular. Even with his talented sons, who endured the most stinging Jewish-father
tsuris
since Abraham bound Issac to the altar (
Look at you, you're 50 years old and never had a Top 10 hit.
).
I salvaged some of our material for the 77-page lead-off chapter of
Tell the Truth Until They Bleed
. Though he gave his permission, he ended up furious with several revelations. A few tidbits about money, and his tendency to become what he called "Grandma Hyde" (as in Dr. Jekyll) and go off the deep end, destroying one project and collaborator after another. But there remained an abundance of unpleasantness that I left out of my book forever, in deference to my enormous respect for both Leiber and Stoller and their legacy.
Leiber & Stoller's Brill Building office had the highest level of staff songwriters in history. Inspired by Jerry and Mike, they worked 9-to-5 in little piano cubicles. The smaller the cubicle, the bigger the hit. Songwriting was a highly specialized craft and art in Leiber's heyday. Most groups did not write their own material. That was left to experts. If you take a cold look at what happened in the wake of Dylan and the Beatles—suddenly everyone in the world was a songwriter, and groups wrote their own songs. There was a burst of collective genius in those times. But songwriting basically changed from a professional's domain to a free-for-all where amateurs took over the ship. To this day. If you don't see any disparity in that, compare your songs to the full-time professionals of Leiber & Stoller's stable—Goffin & King, Barry and Greenwich, Pomus & Shuman, Mann and Weil, early Burt Bacharach, Neil Diamond. There's a difference, right? Songwriting was a business.
Jerry Leiber occupied his own hipster universe: "I have no sense of long distance and time and ancient history. It's like we cut our songs last night." He was a walkin', talkin' street-wise sharpie, the embodiment of his own songs. He was reckless, but a great connoisseur of clothes, art and ghetto cuisine. Turned on by intellectually pretentious women, several notches down from pretty. He felt double-crossed by everybody, and double-crossed them back.
But I believe Jerry Leiber was wittier, greater and more important than Irving Berlin. I love and miss the bastard. I imagine the mythical Jerry in his final hours, like the character of his song "D.W. Washburn," a gentleman who won't get up from the gutter with his bottle of wine. Who toasts his saviors, but says No Thanks, "I believe I got it made."
© 2011 Josh Alan Friedman