WARNING: Americans have a Fear of Music; they close their ears to unfamiliar sounds and avert their eyes from reading unpronounceable names. So be prepared as you read on, my fellow Americans.



Musical provocateur, Mark Rubin, leads the most heroic life of any musician I know in Texas. "Gentleman Musicianer and Sorry Entertainer," to put it mildly. The front line of the Klezmer revival is but one of the many roads he travels. A Stillwater, Oklahoma-born, cowboy-hatted Hebrew, he performs in Germany by "hospitality of the return ticket." Playing for 20,000 Poles in Krakow during the Festival of Jewish Culture, Rubin observed, "One well-placed RPG round and a fairly large chunk of the modern Jewish music scene would be history. Just thinking out loud, mind you."

It is a great testament to the culture of Europe that such crowds appear for non-commercial music. Rubin's hometown, Austin, is no longer where a professional plies his trade. The Live Music Capital of the World has become the Live Rehearsal Capital. "If you see me onstage in my own hometown," explains Rubin, "then you are looking at someone practicing for a gig somewhere else."



Like Yiddish, the mystical, thousand-year-old street language of our forefathers, Klezmer's survival defies all in the modern world. Personally, I haven't yet connected with the klezmorim. To me, Jewish music is simply American--Irving Berlin, the Gershwins, Leiber & Stoller, the Brill Building, R&B, even the American Songbook written for Sinatra. And the series of minor scales Hitler tried to obliterate, as evidenced in Fiddler on the Roof.

The Nazis also tried to obliterate the sounds of gypsies, and today those at the vanguard of Roma and Yiddish-based Klezmer form a cultural alliance. Rubin is a core member of The Other Europeans, an affiliation of master Roma and Klezmer musicians performing this summer at festivals in Vienna, Krakow and Wiemar. Frequent stomping grounds for Rubin, who valiantly transports his three-hundred-plus pounds along with the two largest instruments this side of a Steinway.

Standup basses and tubas don't normally fit on airplanes. Yet, as an itinerant musician, Mark Rubin travels to all corners of the earth. Slovakia is his favorite touring country (the Pohoda Festival in Trencin), with its swine-based food culture. The tattooed Okie squeezes onto Czech Airways planes--usually aircraft retired by larger airlines. Stuck in Slovakian traffic, he'll exit a cab and run ten blocks with his 85-lb. tuba to make opening curtain.

The 42-year-old former bass player of Dallas's defunct Killbilly, and Austin's Bad Livers, has also been Austin's first-call tuba player and string bassist for many genres of roots music. A purist, Rubin considers Klezmer a "vulgar" catch-all term. Klezmer designates the vast secular (non-religious) heritage of Yiddish dance music. "It hocks my chanuck," he says, "and speaks to my personal motivations for working in Jewish music--rather than making a living wage playing something people actually pay for."

To quote Yiddish clarinetist Dave Tarras (1897-1989): "A Klezmer is a no-talent bum who could scrape out a note or two on a fiddle and fool the unsophisticated clients that he was an actual musician."

Most audiences are unsophisticated and nobody needs a license to listen to music. If you've heard of any current Klezmer groups, chances are they're watered-down Vegas acts or two-bit bar-mitzvah bands. Practitioners of "fakelore," says Rubin, in the way Doc Watson described the early 60's folk revival as a "folk scare." Beginning in the 1970's Klezmer revival bands have mixed instrumentals, folk and theater songs into a clumsy patchwork and called it Klezmer—simply because they were too scared to call it Jewish. If you want authenticity, look toward the early 20th century recordings of Abe Schwartz, Harry Kandel, Dave Tarras and the Bobriker Kapelye. All mean motherfuckers. Or check out Hungarian Tanzhaus musicianers Tamás Gombai, Sándor D.Tóth, Zsolt Kürtösi, or Alex Kontorovich's ad hoc Goldenshteyn Bessarabian Brass Band. Are you still reading?

"All my teachers simply called themselves 'muzikant' and their music 'Yiddish,'" says Rubin. "They're dead now. That's why I don't like to use the 'K' word." He doesn't care much for classical music as a whole ("dead European court music"), or for classical musicians in particular ("mostly well-trained house monkeys"). Rubin himself does Klez camp seminars around the globe. He's on Youtube with Hungary's greatest dance band bassist, Csaba Novak, team-teaching bass clinics at Klezmer Summer Weimar. Upright bass players who slap the strings are more prone to muscular injuries, like carpel tunnel. Tendon stretching is essential to avoid becoming a knurled, pretzel-handed casualty on the disabled list. So warns Rubin's instructional video, Slap Bass: The Ungentle Art, with fellow Austin bassist Kevin Smith, of High Noon.

Mark Rubin has described himself as "fat 'n' fit." Rubinesque. One of those rare gentlemen whose portliness becomes them. Sometimes, he even looks a little like Paul McCartney. "The morbidly obese have an extra set of hurdles in the music business," he observes. "Besides shortening our life spans and effectively restricting the range of touring abilities, there's the public obsession with everything pretty."


....



Rubin lost two father figures—Don Walser and Moldavian clarinetist German Goldenshteyn--back to back in 2006. Much of what he's learned, musically, has come from the advice of old men, whom he relentlessly questions. He considered Don Walser his musical father.

Texas's most astonishing yodeler (the "Pavarotti of the Plains") toiled for decades in Panhandle honkytonks. "Many thanks," Walser would say at the end of his set, "and if we don't see you in the future, we'll see you in the pasture." He finally found a young punkafied audience in the 1990's. Walser got the Bad Livers their first gigs at the postage stamp-sized Henry's Bar and Grill in Austin. Now an AutoZone parking lot, the location was wallpapered with snapshots of country musicians who played there.

"I made it a point to bring out-of-towners there to show off 'country music in its native environment,'" says Rubin. "As if it were some kind of an anthropological reserve, which in many ways it was. I felt that my own father, of blessed memory, had sent me into Henry's Bar and Grill the night I first met Don, and put him there to be my guide."

Rubin identified with Walser as a fat man, as a fellow raised Mormon in Lamesa, Texas (like Mark's other Jewish upbringing in Oklahoma), who also lost a parent when young, and found salvation through music.

"We talked about the many pitfalls in our chosen line of work, the temptations running on tap in the taverns, and roadhouses we'd find ourselves playing nightly. I told him that it gave me courage and strength to know that you could be a genuinely good guy, a mensch, and still operate with success in the music business. All my girlfriends had to come to the Broken Spoke to dance and meet my folks, Mr. and Mrs. Walser. And then I watched as Don ate himself into his diabetes."

Mark Rubin's father, Army Lt. Colonel Robert Rubin, led an all-black engineering battalion. In the 1950's, Jewish officers were not assigned to lead "whites." He was a Cold War language specialist and radio operator stationed in West Berlin. Mark was raised in the rolling hills of Payne County, Oklahoma during the 60's and 70's. Oklahoma was not Texas. Mark's dad was not admitted to the local fraternal orders or the country club. Protestant doctrine was taught in public school. The notorious blood libel, Protocols of the Elders of Zion, was available free of charge at the barbershop. Rubin remembers finding swastikas painted on the family home's door, and the odd brick thrown through the window emblazoned "Juden Gerauch." This was an unusually astute old-world slander for the likes of Stillwater, Oklahoma. Rough translation: Jewish stench.

But Native Americans, whose art his father openly promoted, saw fit to create a headstone for his grave that combined the Indian circle of life with the Ten Commandments. They also added a U.S. Army marker underneath. It don't get more American than that.

Rubin made a beeline for Dallas when he came of age. And then Austin, where he would eventually create or join a multitude of musically adventurous ensembles, like Rubinchik's Orkestyr (old-world spelling), Mark Rubin and his Jews of the Golden West, the Ridgetop Syncopators ("My Goyische stage act," he says, a seven-piece Western Swing outfit), Alice Spencer and her Monkey Butlers, Fatman and Little Boy (The Atomic Duo), and his seminal album,

Hill Country Hannukah

.

A typical year has him veering between Frank London's Yiddish Carnival in Brooklyn, playing with bluegrass Klezmer Andy Statman at Lincoln Center, in L.A. with Joshua Nelson's Kosher Gospel review; the "Jewish" stage at the Montreal Jazz Fest, at the Calgary and Winnepeg Folk Festivals; rolling down the streets of New Orleans with his tuba in the Panorama Brass Band, the Knights of Babylon or the Krewe of Morpheus during Mardi Gras; Bad Livers reunions at bluegrass festivals like the Pickathon near Portland, Oregon, and the Hardly Strictly Bluegrass Festival in San Francisco; as well as singing Czech polkas at the Kolach Festival in Caldwell, or playing Polish dances at the Wiesczonskis' anniversary party in Tomball. I most recently saw him in a Mariachi band at Walburg's Bavarian Biergarten, in Walburg, Texas ("The best German cuisine in the world," he insists, and you trust a man of Mark's stature).

"There's a maxim among the jazz musicians I work with in New York City when deciding if they'll take a gig or not," says Rubin. "They call it the Gig Triangle. On any date offered you have three major factors: the quality of the music being made, the amount of money being paid and then what we call the hang; best described as the joy one has with being around one's friends. The theory is that you got to have at least two factors in the positive to do any gig."

Nevertheless, Rubin's primary drive is revisiting the countries of his ancestors' persecution. His great-grandfather left the Russian shtetle of Bobriusk for the slums of West Chicago in 1897. Ain't nothin' like that old-time, Old-World anti-sem. He confronts its ghosts head-on. In Poland, he encounters Ukranian Cossack street musicians seemingly from another century. He tips them a handful of Zlotys, imagining they'll spare him before the next pogram. Shopping in the old city center of Krakow, he spots hundreds of little carved figurines of the traditional Polish depiction of a Jew: a hook-nosed Hassid counting gold. The Poles for their part simply explain that it's a symbol of good luck and abundance.

Rubin envisions himself in his senior years founding "America towns" across neighborhoods in Europe, akin to Chinatowns in the USA. By that time, the vanished Americana of juke joints, diners, neon signs, and drive-in theaters should be complete. As a matter of fact, we could use some "America towns" right now, in the USA. And American Muzikant, Mark Rubin, is just the man to bring it back.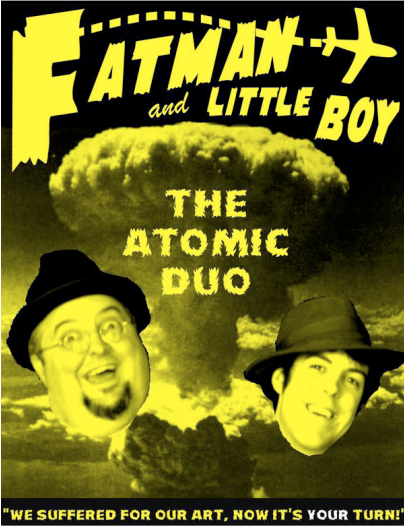 ©
2009 Josh Alan Friedman
(full story from
Dallas Observer
, Aug. 27th-Sept. 2nd, 2009)